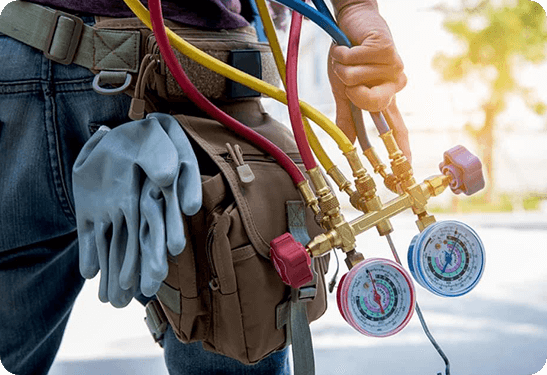 Energy Savings Agreement
Heat Pumps, Air Conditioners, Gas Furnaces, Oil Furnaces, Safety Tune-ups, and any other air quality equipment and products can be inspected.
Professional Dryer Vent Cleaning can have a significant impact on the safety of your home and your family.
All tune-ups include a safety inspection to ensure that your system is operating correctly and safely.
It's difficult to pay for any type of repair, whether it's for your heater, refrigerator, or car. But when you learn that the expense could have been avoided, it hits you even harder.
Don't let your heating and cooling system cause you undue stress. Regular furnace and air conditioner tune-ups can help you save money on repairs and extend the life of your equipment, allowing you to get the most out of your investment.
The following are some of the advantages of tuning up your system:
Save money - Running properly maintained equipment costs less to operate, lowering your cooling and heating costs. It will also extend the life of your system, allowing you to avoid having to replace it as soon as possible.
Skilled and Reliable Technicians with advanced training - Your heating and cooling technician is not only trained to care for your equipment, but also to respect you and your home. You can rest assured that we drug test and conduct criminal background checks on ALL of our employees.
Why Choose Us, Performance Heating and Cooling?
Fast, reliable service
Upfront, straightforward pricing
100% Satisfaction Guaranteed
Emergency Service
The total savings from annual maintenance far outweigh the cost. Regular heating system and air conditioner maintenance has a positive impact on:
Performance of the system. Annual maintenance ensures that your equipment is operating at peak efficiency, ensuring maximum heating/cooling capacity and superior filtration. This makes all the difference in avoiding unexpected equipment failures that disrupt your schedule and force you to replace your system prematurely.
Cost and frequency of repairs. Waiting until there is a clear problem with your equipment results in costly and frequent repairs. We will use a proactive approach to reduce the cost and frequency of repairs, allowing you to save a significant amount of money over time.
Energy conservation. Adjusting and cleaning the components of your equipment on a regular basis will keep it from overworking itself.
HVAC Maintenance by Performance Heating and Cooling
Tune-ups for all types of heating and cooling equipment, including furnaces, air conditioners, and heat pumps.
Cleaning and maintaining your system are the best way to avoid costly repair bills and get more life out of it.
Service that is prompt and professional, provided by uniformed, trained, and highly qualified technicians.
Unrivaled regard for your home and property
Replacement parts and materials of the highest quality
Comprehensive start-up, operational, and shutdown checks are performed.
Debris, discarded equipment, and evacuated refrigerant must all be removed properly.
Inspecting and adjusting your equipment requires meticulous attention to detail.
Motors and fan bearings must be properly lubricated.
Check the thermostat's accuracy.
Examine the blower and fan assembly.
Check that all electrical connections are tight and in good working order.
Capacitors, controls, switches, relays, transformers, contactors, motors, and fans must all be tested.
Check the system's ability to start.
Examine the safety controls.
Temperatures and refrigerant pressures.
Clean the burner compartment, the burners, and the orifices.
Gas manifold pressures should be tested.
Remove all leaves and debris from the unit.
Inspect the duct system for air leaks.
Examine the condition of the heat exchanger and the carbon monoxide barrier.
Inspect the entire house for the presence of carbon monoxide.
CLEANING EVERY BI-ANNUALLY
The majority of breakdowns are caused by either a clogged indoor evaporator coil or a clogged outdoor condenser coil. Dirty coils play a significant role in the failure of compressors and fan motors.
Dirty coils also reduce system performance, resulting in a higher electric bill. Performance Heating and Cooling Energy Savings Agreement will keep your system running efficiently, allowing you to save money on your utility bill.
Furthermore, we will keep your system clean and maintained to help prevent unneeded breakdowns and extend the life of your system.
Get Our Most Extensive Tune-Up
Our Annual Maintenance Tune-Ups at Reliable typically last 60-90 minutes and include 30 separate cleaning and inspection procedures. We do discover problems from time to time, but our goal is to prevent them, which is why our Tune-Up and Maintenance plans have become so popular with our customers.
What Is Involved in HVAC Maintenance?
While many of our customers understand the fundamentals of HVAC maintenance, some are unaware of what Performance Heating and Cooling maintenance plans entail and wonder why they are so critical. Some clients even inquire, "Is HVAC Maintenance worth the money?" Today, we'd like to go over what distinguishes our maintenance plan from others, as well as walk you through a typical HVAC maintenance visit.
If we are approaching heater season, we will inspect your heat exchanger to ensure that no holes or cracks have formed, preventing a potentially dangerous situation in which combustion gases can enter your home or business.
If we are approaching cooling season, our technicians will check the refrigerant pressures on your system to ensure that there are no leaks and that your refrigeration lines are not restricted.
Finally, our technicians will ensure that your thermostat is properly communicating with the equipment and that you are aware of any potential issues or changes that have been made.
Call Performance Heating and Cooling today in our service areas, Jackson, Milan, Medina and surrounding areas for more details.