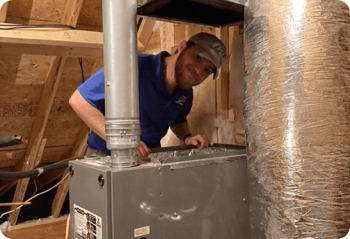 Furnace Repair
Furnace repairs are mostly needed during the winter season. This is a common scenario for Jackson, Milan, Medina and surrounding areas residents who contact us for emergency furnace repair.
Furnaces typically fail during the coldest months of the year, when they are used the most. What a waste of time!
SKILLED FURNACE REPAIR TECHNICIANS WILL:
Arrive at their appointments on time
Drive company trucks containing the proper tools
Be friendly and respectful
Communicate openly and honestly
With Performance Heating and Cooling nearby, a warm and comfortable home is only a phone call away.
Our licensed and experienced technicians will arrive at your home in Jackson, Milan, Medina and surrounding areas in fully stocked vehicles and will restore your furnace quickly, efficiently, and most importantly safely. Most of the time, we can complete all heating system repairs in a single visit.
If your system cannot be saved or is costing you a fortune in repairs, we will assist you in selecting a replacement.
What Can Cause Problems for My Furnace?
If you notice any of the following, you should probably schedule heating system repair appointment:
Unusual sounds
Unpleasant odors
Cycling frequently
Cycling indefinitely
Inadequate airflow
Inadequate comfort, blowing cool air
Rising energy bill
If you notice any of the above, your furnace most likely has a problem that needs to be addressed.
Contact Performance Heating and Cooling in Jackson, Milan, Medina and surrounding areas to request furnace repair with one of our highly trained technicians.
Detecting minor issues as soon as possible can make all the difference in reducing repair costs and heating system disruption.
Contact Performance Heating and Cooling in Jackson, Milan, Medina and surrounding areas at our number (731) 613-1500 or schedule service with us below!
Why Should You Trust Performance Heating and Cooling
Many homeowners face the "repair or replace" dilemma. Why should you spend more money to replace your furnace if it can be repaired?
Decades of experience have taught us that investing in an older and inefficient system will frequently cost you more in the long run than replacement. When we inspect your system, we will consider the age of your furnace, how frequently it needs to be repaired, and any other important factors.
We will be able to provide you with options to help decide if a repair or replacement is the best option. Rest assured that our word is backed up by years of providing honest, transparent service on which our customers rely time and again.
Your home should shield your family from the cold, not an extension of it. If your furnace isn't performing as expected or has gone out for the season, contact the Performance Heating and Cooling team.
We'll assess the situation, offer several options, and assist you in saving money every time your furnace is turned on.