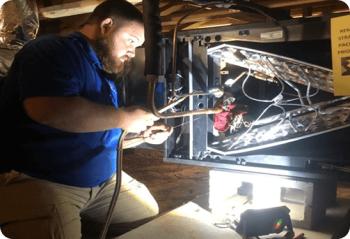 Air Conditioning Repair
If your cooling system breaks down, we're ready to swoop in and bring the cool right to your door!
We offer comprehensive AC services for central air conditioners, heat pumps, mini-splits, and anything else you can think of. We service it if you rely on it to keep you cool in the summer.
How do I know if air conditioning service is needed?
Air conditioners have many moving parts, making them difficult to diagnose with the naked eye. That's why we use cutting-edge diagnostic technology to quickly identify the issue and save you money on air conditioning repair.
If your air conditioner is performing the following functions, there is most likely a problem that needs to be addressed:
Releasing warm air
Failure to provide adequate airflow
Energy bills are costing you more than usual
Continually turning on and off
Failure to control humidity levels
Water leaking
Emitting offensive odors
Making strange noises
If you notice any of these problems, please contact us to schedule a repair. We will come fully prepared to inspect your system and provide you a solid solution.
Should You Get an Air Conditioner Replacement or Repair?
When it comes to older systems, the choice between repairing and replacing isn't always black and white. This is where our technicians can assist you.
They will take into account all of the important factors, such as the age, performance, and frequency of repairs on your unit. They can then offer you options to decide if repair or replacement is the best course of action.
Whatever is recommended, you can rest assured that it is backed by years of experience. We will always offer the most cost-effective recommendation, whether it is for central air conditioning installation or central air conditioning repair.
Why Should You Hire Performance Heating and Cooling for AC Repair?
Unfortunately, many businesses cut corners when it comes to air conditioners. They'll either provide a short-term fix that won't last long, or they'll fail to properly test the system against manufacturer specifications. In either case, you did not receive value for your hard-earned money.
At Performance Heating and Cooling, we do the exact opposite. From beginning to end, we roll up our sleeves and promise to get it right the first time!
We Provide:
Air conditioner repair services in Jackson, Milan, Medina and surrounding areas.
Ensure the performance and longevity of your air conditioner.
Repair options that are cost-effective.
Prioritize your specific comfort needs.
Testing the safety, mechanical, and operational factors in your system.
With Performance Heating and Cooling, you don't have to worry about anything. Our experts will take proper care of your heating and cooling systems.
When there is a plan in place, maintenance works best. Here at Performance Heating and Cooling, we'll assist you in creating the ideal one!
In Jackson, Melan, and Medina, Performance Heating and Cooling Inc. will keep your homes cool during the hot summer season. We will assist you in getting the most out of your air conditioner for as long as you own it.
Call Performance Heating and Cooling today at our number (731) 613-1500 or schedule service below!