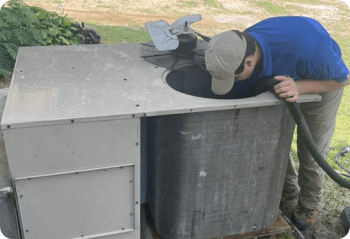 Air Conditioning Maintenance
It is ideal to service your air conditioning equipment before you are in desperate need of relief from the heat. Performance Heating and Cooling in your area offers seasonal tune-ups for all brands and models of cooling systems.
So, you can relax. Our qualified technicians will inspect, clean, and prepare your air conditioner for the heavy summer workload.
Preventive maintenance is an excellent investment. By safeguarding your cooling system, you will safeguard your wallet by avoiding most malfunctions and costly repairs.
A tune-up from Performance Heating and Cooling will extend the life of your air conditioner, increase efficiency, and keep your family breathing clean, healthy air.
You can rely on our A/C service
Heating and cooling account for more than half of your home's energy costs. A regular maintenance program with Performance Heating and Cooling will keep your unit running at peak efficiency, ensuring your comfort and lowering your energy costs. Because the system is dirty or not operating properly, you can lose up to 5% efficiency.
Performance Heating and Cooling specialists will inspect the indoor and outdoor coils during an annual inspection. Dirt frequently accumulates, reducing the unit's ability to transfer heat carried out from within.
As a result, there is inefficiency and higher utility bills. The condensate drain will also be checked and inspected by our team. A clogged drain can have an impact on indoor humidity levels and cause problems.
THE BEST HVAC TUNE-UPS AND COOLING MAINTENANCE IN JACKSON, MILAN, MEDINA AND SURROUNDING AREAS
To begin, you may be wondering if your home requires AC maintenance. After all, the unit may be relatively new and in good working order. The problem is that even new systems develop issues that aren't apparent until they start to affect performance.
By that time, you may have an unusually high energy bill and will need to request a costly repair. Tune-ups prevent all of this, save you money, and extend the life of your unit.
Allow us to come over and create a maintenance plan with you. This is accomplished by becoming a member of our Fan Club.
OUR MAINTENANCE PLAN'S BENEFITS
Repairs are available in emergency.
Select our Performance Heating Plan for the Best Value.
When there is a plan in place, maintenance works best. Here at Performance Heating and Cooling, we'll assist you in creating the ideal one!
As our customers, you will not be responsible for the upkeep of your equipment. We'll take care of everything!
You'll be eligible for a variety of benefits, such as scheduling reminders, low cost repair service, and more. Best of all, we'll provide both heating system and air conditioner maintenance under one plan and at a low cost.
It provides the best value and peace of mind with your equipment.
Learn more about the Performance Heating and Cooling Protection Plan and how we can assist you in predicting over 80% of breakdowns before they occur!
All makes and models of air conditioners can be serviced by our experienced and highly skilled technicians. We will come to your service as soon as you contact us. Our appointment schedule is always flexible in order to make our services as convenient for you as possible.
Performance Heating and Cooling in Jackson, Milan, Medina and surrounding areas performs a variety of services, including AC maintenance, repairs, and installations. In addition, we offer heating maintenance.