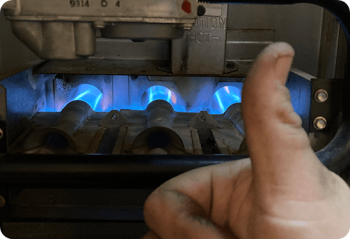 Furnace Maintenance
Performance Heating and Cooling is well-known in the Jackson, Milan, Medina and surrounding areas for professional electric and gas heating installation and repair, as well as heater maintenance.
Before the cold weather arrives, it is best to perform seasonal maintenance. We understand that emergency furnace repairs are frequently required on the coldest days and nights.
Routine maintenance can save you from emergencies. Our experts can fix any issue, whether your furnace begins to make noise, emit odors, or stops working.
Our vehicles are fully stocked, and our technicians use the most up-to-date diagnostic tools to quickly identify and resolve problems.
A high level of excellence implies that we pay attention to every detail and provide long-term solutions.
When Should I Make a Maintenance Appointment?
Although the coldest weather has yet to arrive, fall is the best time to schedule furnace maintenance. Improperly calibrated thermostats, clogged vents, and gas leaks, which can carbon monoxide poisoning, may go undetected until your furnace is fully inspected.
We will conduct a thorough inspection to detect any issues issues and provide you with a few options to get the repair taken care of.
What Can Performance Heating and Cooling Provide for Me?
Performance Heating and Cooling can provide maintenance to help avoid major repairs and extend the life of your heating system. We perform a thorough 21-point inspection to ensure that your furnace is in good working order or that it requires repair, looking for anything that could cause it to stop working or endanger your family.
We wil check for start-up, operational, and shutdown issues, as well as remove debris and ensure ignition components and pilot lights are operational.
We will also inspect the heat exchanger, burner, and the interior and exterior of your furnace for wear or damage during a routine maintenance visit.
Cleaning or replacing the air filter is also an important part of maintenance. This can improve the quality of your indoor air and allow your heater to run more efficiently. If you have a new air filter, our technicians will be happy to change for you.
To learn more about Performance Heating and Cooling one time furnace maintenance or our Energy Savings Agreement, us a call today at our number (731) 613-1500 or schedule service below!